Listen Up, Nerds 36: Merchandise 2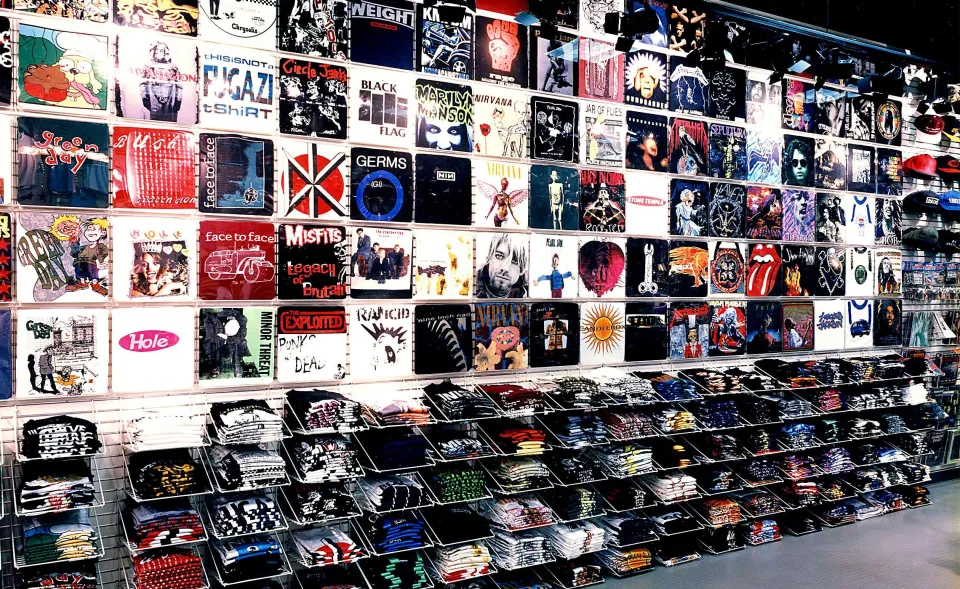 I told you this would be a recurring feature! I never once lied! I didn't run out of things to talk about but who wants to talk about how I'm right about everything cultural? Let's talk about fun stuff, let's talk about shirts:

I bought this! My Denver Nuggets (of 6.5 yrs) won the NBA Championship last week. This feels good as hell, mostly bc I can say "Count the rings!" in an argument with some chud at a bar. I don't foresee that happening but it COULD and that's why it's fun. Anyway, this is the best vintage Denver Nuggets shirt I've found, and listen, pal: I look at a lot of them. One of the coolest vintage basketball shirts is the Chicago Bulls championship ring shirt. I feel like they made one of them for every of the second threepeat seasons ('96, '97, '98) and each one of them is so cool, but I'd never wear one because that's stolen valor. No team I've liked has won a title in my lifetime. I guess the Colts won the 2007 Super Bowl and that was kinda cool but I never really cared all that much about the Colts. Anyway the extra 7' is a fun touch to add on how tall Dikembe Mutombo was. The first NBA game I ever attended was a Nuggets game. It was a Pacers game, too, but the Nuggets played as well. I think this is the game. What a terrible box score. People say that basketball in the '90s was better but you often had dreadful games like this that aren't a function of good defense but rather it just wasn't as fast as today's game. My life feels kinda empty without basketball at night. Not like deeply empty but like my fun little ritual is over. Do you want me to watch baseball instead? Get real.
Power Trip - Lockin' Out 7" shirt with art by Matt McCormick

My friend told me very recently that Matt McCormick did the art on the back of this shirt and if that's the case: it's sick. This is my favorite Lockin' Out lock of all of the lock shirts that I own. I love this PT shirt and I just sold this one to a guy who lived in the city and met me on the Upper East Side because I sent him THE WRONG SHIRT. Do you know how embarrassing that is??? My perfect Depop reputation could be damaged forever. Anyway not to doxx this dude but I think he's a doctor or a surgeon? It feels so weird to hand an old hc shirt off to a doctor. Anyway the chain and shivs are such a sick, sick look on this thing. Matt McCormick does his own clothing line called One Of These Days and I think it's pretty cool. Someone should talk me out of buying their canvas trucker jacket when I have some extra cash.
Unbroken - Ritual longsleeve, maybe from the early '90s?

Ok so I have had quite a few New Age Records shirts because I think it's a great label but they printed so many shirts in so many ways back in the day that it's hard to track down what's what. This is an Unbroken shirt and the front of it is screened but it's damn near bulletproof. I hate wearing a shirt where one big square of my chest gets mad sweaty and the rest of it feels fine. Unbroken is reuniting in a month for Indecision Fest which is the sickest thing in the world and I'm bummed I can't make it out there. I've been spinning Life. Love. Regret. While filling out job applications and maybe that's putting some bad vibes out there. Probably not.
Online Ceramics - Puffing DMT For Hours/Called In Dead

Never let it be said that I wasn't on top of the trend before it was the trend. This is an OC shirt from 2016 or 2017. I wore this thing to hell and back and shrunk it by accident and it looks like a crop top on me now but maybe that's the vibe this summer. I have a photo of myself in front of the Elliott Smith mural in LA wearing this shirt. I love the old Online Ceramics shirts where they're absolutely over-the-top with the drug stuff. I was disappointed when I got this shirt because the tie-dye is kinda subtle and I don't love subtle tie-dye but now it feels more tasteful? Anyway Dead & Co. are wrapping it up and they've been on a tear. Real wild sets. First set Dark Star???? I feel like bootleg shirts are gonna die after Dead & Co. wrap it up. At least in the fanfic sort of way. Official merch bootlegs will be around forever, these on the other hand? They're done. The bottom of this shirt says "Puffing DMT For HOURS" which feels like such a wild thing to say. One night at Clandestino in 2021, a guy smoking a DMT pen told me he smokes it all of the time. I didn't believe him so I looked it up the next day and I guess people sell DMT pens and instead of dosage or whatever, they say that the cartridges have a certain amount of "Breakthroughs" in each pen. That still rattles me, the idea that you can buy a breakthrough.
Friday, I'm back with more music. I'll see you then. Be well.