Listen Up, Nerds: The Lauren Beecher Interview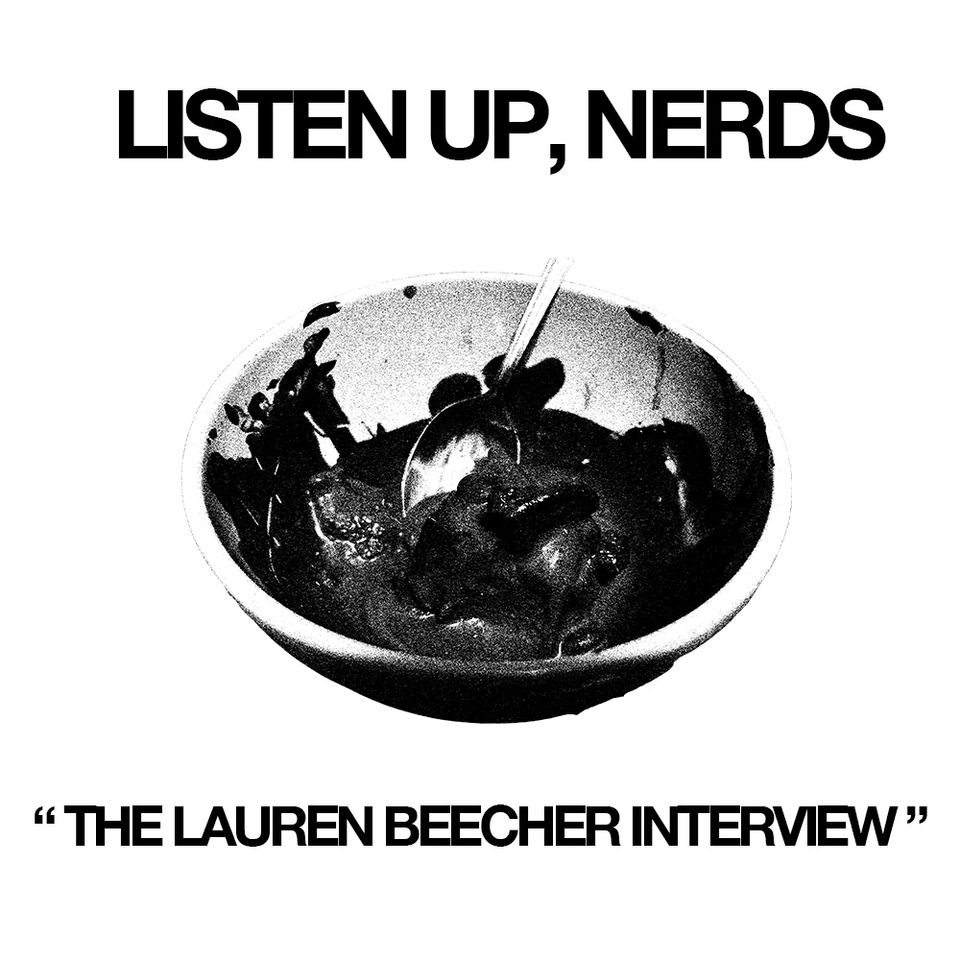 Playlist: Spotify | Apple Music
Lauren Beecher of Broken Record is a friend of mine and she makes wonderful music. I'm lucky to be around a ton of people who make great art and Lauren is one of those people. She's also got great taste in music and it comes through on the newest Broken Record album, Nothing Moves Me. NMM is a record inspired by a love of music, at the end of the day. Lauren and the band wrote a really solid rock record in the vein of Jimmy Eat World, forgetters, and Rival Schools. I jokingly called it "Stadium Emo," the kind of classically-emo-tinged rock you might hear at a hockey game over the PA. Not twinkly, but definitely evocative. Lauren came over with a big box of pastries and made me interview her about the music she loved. That's a joke. I wanted to do it and she was kind enough to bring me a Reuben croissant and a big cup of cold brew to chat about this playlist. I edited the interview for clarity and time but what follows is a fun chat about what makes Broken Record tick and eggs benedict. I hope you enjoy it. The links to the playlist are above and Nothing Moves Me is out on Really Rad Records. You can find it embedded in the bandcamp player below.
"I Got Well" - Ovlov
Is this the best Ovlov song?
Yeah, it is. The riffs are so cool. I used to go see them like all– Ovlov is the reason I bought a fuzz pedal. But I'd see them all of the time and then I'd think "You're all shredding, but it's not excessive." Their drummer is just so good and he plays so fast and then Steve secretly shreds on guitar.
Did you start playing drums or guitar first? I don't actually know.
Oh, so I started playing guitar first, but I started playing drums in bands first. But both were around the same time.
"Break Me" - Lemonheads
Why Car Button Cloth? Obviously, Come On Feel... and It's A Shame About Ray are the two top ones and I think people tend to gravitate towards the older stuff a little bit more than the newer stuff. But Car Button Cloth, I know you've talked about it in the past and enjoyed it.
Especially relating this playlist back to Nothing Moves Me, I think "Break Me" has a certain kind of manic energy that I wanted to have on our album, and some of the lyrics are goofy and then there's flute for no reason. It definitely illustrates the kind of manic energy I was going for a lot, but it's also like I generally try not to wallow but sometimes it feels really good to just dig in and feel like shit. But that album is half-bad to be clear.
Is it?
I don't know that's half bad, but it's half really good
One thing that I noticed about Lemonheads in general is that a lot of bands love to say "We're inspired by the Lemonheads," but what does it mean to you?
I think like the manic thing but also other things. I really like the Lemonheads, the '90s guitar thing is very up my alley but also lyrically, [Evan Dando] is really good at being playful about being really fucking depressed and so I think that's cool. I don't want the energy to drag down just because the song is depressing
"A Night Like This" - The Cure
We went to Cure Brunch [A brunch where the DJ played nothing but songs by The Cure], but if there was Broken Record brunch in the same way that we went to Cure Brunch, what is what's the drink special? And what is the Benedict special?
I'd like to say first of all, the first thing I would change is that the video and the audio would be the same. When we went to Cure Brunch, the video on the big screen was not the music on the speakers. It was a little disorienting, I just wanted to put that out there. Okay, drink special: I think if it was Nothing Moves Me-themed, you'd have to drink something orange. I guess it's brunch classic mimosa. Maybe a pineapple mimosa, because you get that gradient in the glass and then also I think that you could make a really delicious pineapple orange juice mocktail. Maybe like a splash of Grenadine in there. The Benedict...
This is a hard-hitting question.
I know this is the journalism that people come for. Actually, you know what, okay, I'm gonna take this cheeseburger craving I've had and turn it into a Benedict. I've been making cheeseburgers with green chile and really fresh tomato. You know what? For the sake of making it filling, we can we can have avocado. So I think green chile, tomato, avocado, and a regular Hollandaise. On a English muffin.
"Risk" - Deftones
We have, as a group of friends, a very Deftones group of friends. I think that's the band we all agree on the most. I think there's an interesting correction in history going on right now with Deftones, where they're popular again and people love Diamond Eyes.
Oh yeah, Corey (Fruin, bassist/husband) got me into them years ago when we still lived in Connecticut. At the time, his two favorites were White Pony and Diamond Eyes
Yeah, this song specifically I was thinking that Chino sounds like Walter Schreifels.
That's fair. I never thought about that. There are specifically some parts that are Rival Schools-y. That makes that makes sense as to why I like it. There's a lot I like about that band. There's a lot we all like about that band, but I've always loved music that's heavy but still super melodic. I also just always gravitate toward darker stuff, so if you add a darker element to something that's super melodic, that translates to the music we make.
I do think that the kind of music that you make is secretly very heavy.
No, I know, it still kind of shocks me. Runner's Digest, for example, even now I'm like, "How did I write that?" I'm still alarmed at how heavy parts of that song are and just that I wrote it because that's not usually what comes out. I'm very stoked that it did but I listen now and think, "What was I listening to?" I think we're heavier than we get credit for. I think a lot of people focus on the melody, which is of course cool. Anything that people are focusing on is positive and people have very nice things to say, and I think that's all awesome. But I think we're a little bit heavier than people think we are.
Yeah, I mean I would definitely agree. If you didn't have your vocals on it, I think people would listen to it a little bit differently. And you have a different vocal delivery than a lot of people in the same sphere of music do yeah, so it is it is like a little bit different. Not to discredit you, you are looked at a little bit differently.
For sure. I don't want to turn this into a talk on "Female-fronted bands." But that is a thing though. My voice is gonna come out the way it comes out. I also am very melodically inclined as we've discussed but because I'm a woman, because my voice sounds the way it does compared to a lot of singers. I tried to do a lot more with my voice this time and I tried to kind of like sing to my vocal range a little bit better
This whole like post-grunge thing that is happening right now, straining your vocal cords is like part of the delivery of grunge in general and because you're not doing that, there's a difference there.
There's a difference. You know what? I tried to do it at parts a little bit and I said "I'm going to learn how to do this properly so I don't hurt myself." I kept on not doing that and then I got to the point where I thought, "I want to be able to recreate this live and if I'm not going to learn how to do it correctly, then I won't do it."

"How It Feels to Be Something On" - Sunny Day Real Estate
What is your favorite Sunny Day record?
The Rising Tide is my favorite and we've talked about this but I think the more time goes on, this is probably my favorite song.
Really? I don't think that's controversial. I just find that interesting.
Yeah, I mean like I'm not air drumming like I do to "In Circles." The classics are the classics for a reason and they're so good but I think this is the song I find the most interesting and that I want to dive into the most. I don't know any of the lyrics to this song except for the title because it's repeated 800 times and yet, because of the way the guitars build and the whole instrumentation builds, that line is still so emotional and hard-hitting and that's another reason why I love this song. So much of what amazes me is listening to it and saying, "You did all this with music." The production of it is so good and I finally got into it when we were probably halfway through writing. I was starting to think more about the production of our record, and I think the production on this album is probably the main reason why I think that's the one I like the most.
"Leadings On" - Gleemer
This is funny because like we keep talking about these songs and it segues perfectly regardless of like what I intended. I had questions written but you talk about the production on the last song and the next song is a Gleemer song. You worked with Corey Coffman on both of your full lengths. I think a lot tonally on the Gleemer record and your record is very similar
Yeah, he did the drum production, and they sound like insane. He's so good, and something I really like about Corey's approach to mixing is that everything he does sounds like so big and... "Atmospheric" doesn't feel like the right word. It's moody when it should be but he also still gives the sound enough space to bring you there. I really like his approach and when I heard Gleemer, I just immediately thought, "This would translate well to what we do." He killed it.
"Undercovers On" - Rival Schools
You grabbed a forgetters song, a Tony Molina song, and now Rival Schools. You're attracted to the... It sounds bad if I say "self-indulgent side projects" but what's your big attraction to stuff like that?
In these situations, it's mostly just like that was the project that appealed to me most out of what these people have done but, framing it the way you're framing it, I do kind of like the... These are the projects of these people needed to make.
Yeah, this is more of a passion project. Is Broken Record like that for you? I know that it's collaborative and everyone brings something to the table. You release one-off solo songs here and there, but is Broken Record the band you felt you needed to do?
Yeah. I've thought about a lot about why I play music because there's a lot of torture involved. Broken Record is specifically the project where I want it to be challenging you know what I mean? And so the solo songs are fun and it's fun and satisfying in a different way. Those songs come together pretty easily and I'm playing guitar and having fun. But yeah, Broken Record is something else. I think I do have a compulsion to play music but also it's really important to me to like....I don't want to say "Have integrity about" whatever because that sounds like I'm on my high horse, but it's important to me to stay true to my vision for a song. We take whatever we decide as a band is cool and interesting to us but then strip that down and simplify it and make it work for us. We're doing this for us. I'm doing my part of it very much for me. But I also think, "What's the best way for me to deliver this?" We want our music to be approachable and relatable, so how can I how can I take this thing that we love and then make it so other people can relate to it? I don't want to write any lyrics that are too specific to my life, and that's the goal for this kind of project... Broken Record is about doing something that's for us. We have to open up and take down our walls, and trust that people will relate to the music if it's honest. Staying true to yourself is the most relatable and empowering thing that you can probably convey to the audience. Because at the end of the day like, you're not me, I'm not you, but we can stay true to ourselves and that's all we've got.